Multi-Mode and Single Mode Fiber Splicing,
Termination & Installation
We provide following Fiber Optic Related Services in New Jersey, Pennsylvania and Maryland: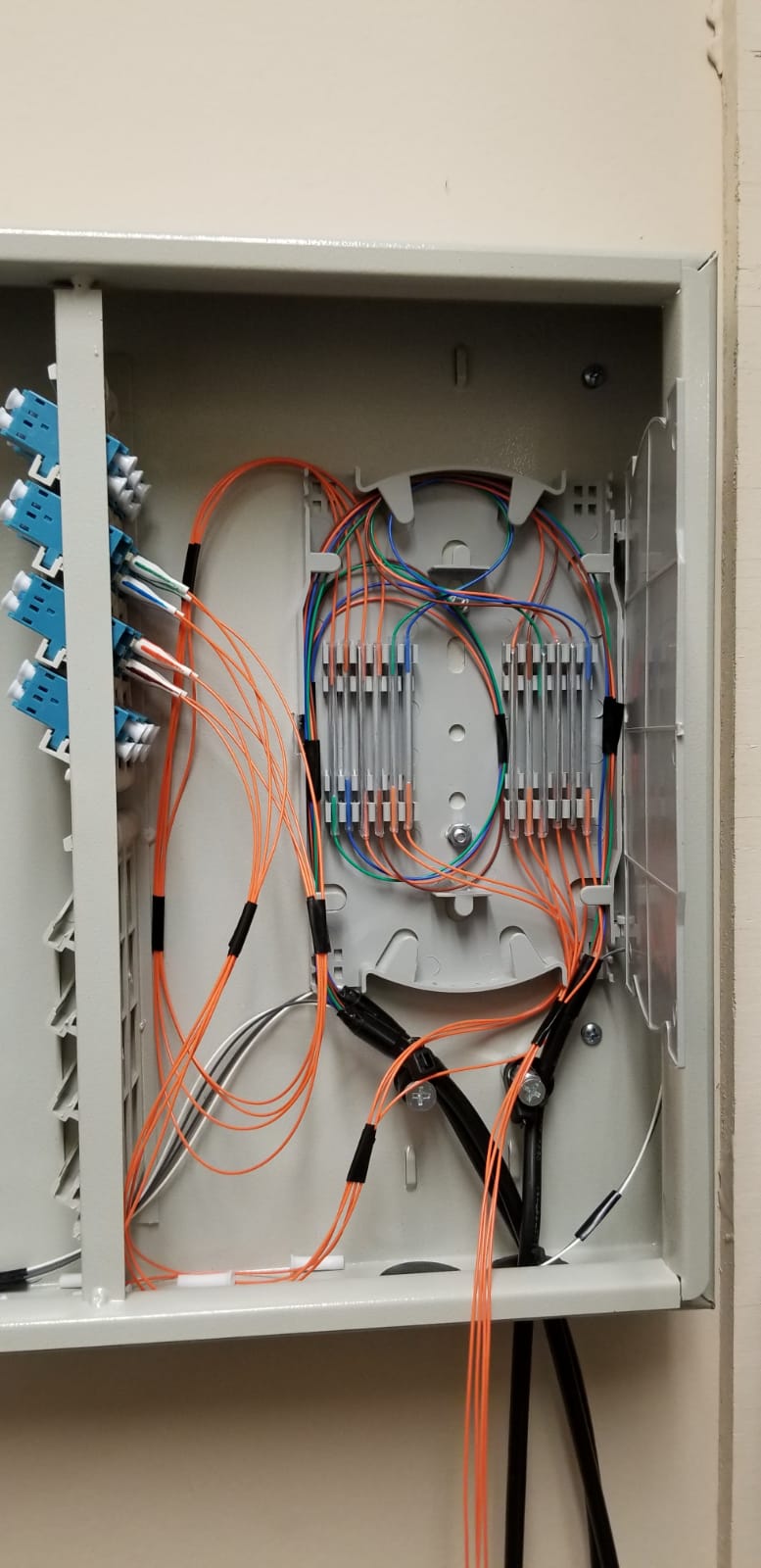 Fiber Optic Installation
Fiber Optic Cable Termination
Fiber Optic Cable Splicing
Fiber Optic Cable Troubleshooting
There are many different types of Fiber Optic Cable each with its own unique characteristics. Some of the most widely used fiber is:
Multi-Mode OM1 - 62.5/125 µm: OM1 is the most popular and oldest multimode fiber optic cable installed in the field. It was introduced in 1970's and is still installed by some contractors. OM1 fiber has the lowest data carrying capacity of 1Gbps up to 275 Meters and 10Gbps up to 33 Meters point to point. OM1 should be considered obsolete for new installation.
Multi-Mode OM2 - 50/125 µm: OM2 Multi-Mode fiber was introduced in 1998. It supports higher data transmission rates at longer distance. OM2 fiber can carry 1Gbps up to 550 Meters and 10Gbps up to 82 Meters point to point.
Multi-Mode OM3 - 50/125 µm: Introduction of 10 Gigabit Ethernet required a higher performance fiber which led to the standardization of OM3 in 2002. OM3 is commonly known as "Laser Optimized Multimode Fiber". OM3 fiber can carry 1Gbps up to 550 Meters and 10Gbps up to 300 Meters..
Fiber installations are meant to last for decades. If you want a future proof fiber installation, go with OM3. Your might not be running 10Gbps network at this time but if you need additional bandwidth down the road - you can simply upgrade your network equipment and OM3 fiber will support it.
Another item to keep in mind is that OM3 is backwards compatible with OM2 and OM1. Similarly OM2 is backward compatible with OM1 fiber. With this in mind if your specs require OM1 you should install OM2 at the minimum.
Still have more questions? We are only a phone call away. In addition to end users we routinely work with construction companies, builders and electrical contractors in procuring and installing Fiber Optic cabling, Keyfob & Card Access Control, Intercom, Phone & Data Network Wiring (CAT5e, CAT6, Coax) and other low-voltage systems in new and old construction.
For safety of our customers, our technicians clear a background check and a drug test before they are hired.
Whatever the size and complexity of the task, our commitment to our customers is to provide them with the highest level of quality service, respond quickly to their needs and enable them to achieve their goals on time and within budget.
Call us today at (609) 424-7584
We will be Glad to Assist You!
---